Magazine
The magazine Katundi Ynë (Our Country) is the longest-running magazine of Arberia and the only one of its kind in Italy: published by the association "Gennaro Placco", since its birth in 1970 it has been consistently committed to keeping the arbreshe community alive in Italy and around the world. "It's a periodical of the political and cultural battle of threatened cultures", this is how we immediately loved to define it: 3,000 copies per year with a quarterly publication are born from the passion and commitment of over 1,000 collaborators and the support of over 3,000 members scattered throughout Italy and Europe.
A collective work of arberesh commitment and spirit, the arbereshe periodical represents all spheres of community life and culture, from history and social and political affairs to folklore, literature, tourism and religious news.
Widespread in Italy and abroad also in public institutions, libraries, bookshops, schools and universities, the magazine Katundi Ynë constantly renews since 2011 its graphic layout and opens up to new methods of distribution, as well as new themes and columns, increasingly open to contamination even if faithful to the classic and beloved themes of the arbresh ethnicity.
Opera collettiva dell'impegno e dello spirito arberesh, il periodico arbereshe rappresenta tutte le sfere della vita e della cultura della comunità, dalla storia e attualità sociale e politica, al folklore, dalla letteratura al turismo fino alla cronaca religiosa.
Diffusa in Italia e all'estero anche in enti pubblici, biblioteche, librerie, scuole e università, la rivista Katundi Ynë dal 2011 rinnova la sua veste grafica e si apre a nuovi metodi di distribuzione, nonchè nuovi temi e rubriche, sempre più aperti alle contaminazioni seppure fedeli ai temi classici e cari dell'etnia arbresh.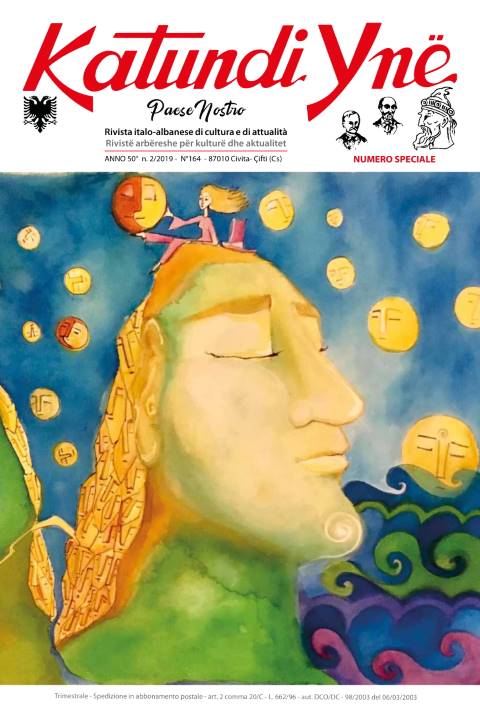 Read the magazine online
(Italian only)